There's room for everyone in the Rhythm, with seating for 7 and 35 powerful jets located in targeted groups in various seats. Fully insulated with a FiberCor®, this spa is energy-efficient and always ready for you and your loved ones to enjoy.
Hot Spot Rhythm Spa Specs
Download Hot Tub Specs Sheet
Seating
7 adults
Dimensions
213 x 213 x 93,5 cm
Water capacity
1,420 litres
Weight
384 kg dry
Spa Shell Colours
White Pearl
Sterling Marble
Desert
Tuscan Sun
Corresponding Cabinets
Coastal Grey
Espresso
Teak
Lighting system
10 multi-colour LED points of light, dimmable
Entertainment systems (optional)
Wireless Sound System with Dock
Wireless Bluetooth® Sound System
Wireless TV & Sound System
Control system
230v/16amp 50Hz IQ 2020™
Total jets
35
Jets
5 - Directional Hydromassage jets
3 - Rotary Hydromassage jets
27 - Directional Precision™ jets
Jet pump 1
Wavemaster™ 6000
2.0 HP Continuous Duty
3.9 HP Breakdown Torque
Two-speed
Jet pump 2
1.5 HP Continuous Duty
3.2 HP Breakdown Torque
Wavemaster® 6500
One-speed
Water feature
Waterfall
Ozone system
FreshWater® III Corona Discharge (optional)
Effective filtration area
6.00 m2
Cover colours
Ash
Espresso
Rust
Cover lifters
CoverCradle™ II
CoverCradle
Lift 'n Glide™
UpRite™
Heater
No-Fault™ 2000w/230v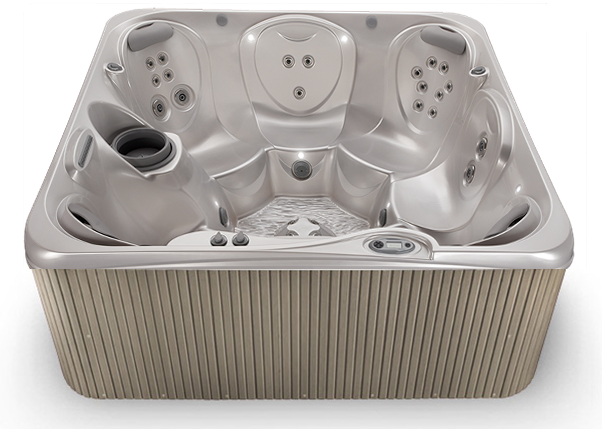 Optional Hot Tub Features
Look at the below to see the optional hot tub features available for this model.
Standard Features